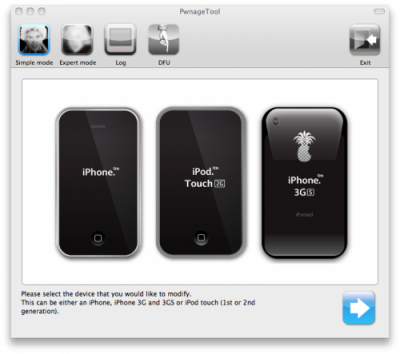 The iPhone Dev-Team has released PwnageTool 3.1.5 for Mac OS X. It allows iPhone and iPod Touch users to safely upgrade to firmware 3.1.3. With PwnageTool you can preserve jailbreak and ultrasn0w unlock. But if you're using the blacksn0w unlock with baseband 05.11.07 you will need to stay at firmware 3.1.2.
PwnageTool 3.1.5 creates a custom 3.1.3 IPSW for the following devices:
iPhone 2G
iPhone 3G
iPhone 3GS with early bootrom
iPod touch 1G
iPod touch 2G with early bootrom
Warning! Don't try to use this tool if you have  iPhone 3GS with firmware 3.1.3 – it just won't work. If you have iPod Touch 1G, iPhone 2G or factory unlocked iPhone 3G , try to use redsn0w – is would be much easier.
You can download PwnageTool 3.1.5. here.
05.11
,
05.11.07
,
1
,
3.1
,
3.1.2
,
3.1.3
,
3G
,
3GS
,
Ads
,
baseband
,
baseband 05.11.07
,
blacksn0w
,
bootloader
,
BootROM
,
download
,
Firmware
,
firmware 3.1
,
firmware 3.1.2
,
firmware 3.1.3
,
game
,
iPhone
,
iPhone 2G
,
iPhone 3G
,
iPhone 3GS
,
iPod
,
iPod Touch
,
iPod Touch 1G
,
iPod Touch 2G
,
IPS
,
ipsw
,
jailbreak
,
Mac
,
Mac OS X
,
pwnagetool
,
PwnageTool 3.1
,
PwnageTool 3.1.5
,
redsn0w
,
sed
,
ultrasn0w
,
Unlock
,
Unlock & Jailbreak
,
анлок
,
джейлбрейк
,
прошивка
,
прошивка 3.1